Ramping Up Referrals – Leveraging Technology To Increase Demand
Referrals are a key component for promoting practice health. Unlike external marketing efforts, referrals are a relatively inexpensive way to maintain and grow your patient base. Patients who come via referrals are also typically better patients – more compliant, more loyal, and more likely to refer you out again.
Any practice can build a strong referral network, as long as they focus on the one thing that all referral-heavy practices have in common – differentiation.
So how do you make your practice stand out? Most practices opt for one of the following:
Specialization: can be a technique, condition or patient population
Superior results: focus on delivering better outcomes on a range challenging conditions
Technology: offer a unique treatment option
Of these three methods, which is the best? While there is no absolute answer, opting to invest in a unique therapeutic technology is a strong choice. Why? When done right, implementing a new technology incorporates the added benefit of specialization and superior results. But there is a catch! You need to do your research and choose a reliable, research-backed modality that can deliver improved results, consistently. Otherwise, you are wasting your time and money on an investment that will lead to frustration for both you and your patients.
So now the big question – which technology should you invest in? Increasingly, many doctors are looking to laser therapy as the answer.
Deep tissue laser therapy can deliver the results you want while offering the distinction you need to ramp up your referrals. It is a versatile technology that improves therapeutic outcomes by quickly reducing pain and inflammation for many conditions. Patients enjoy the soothing warmth generated during the treatments, and appreciate the immediate yet lasting results.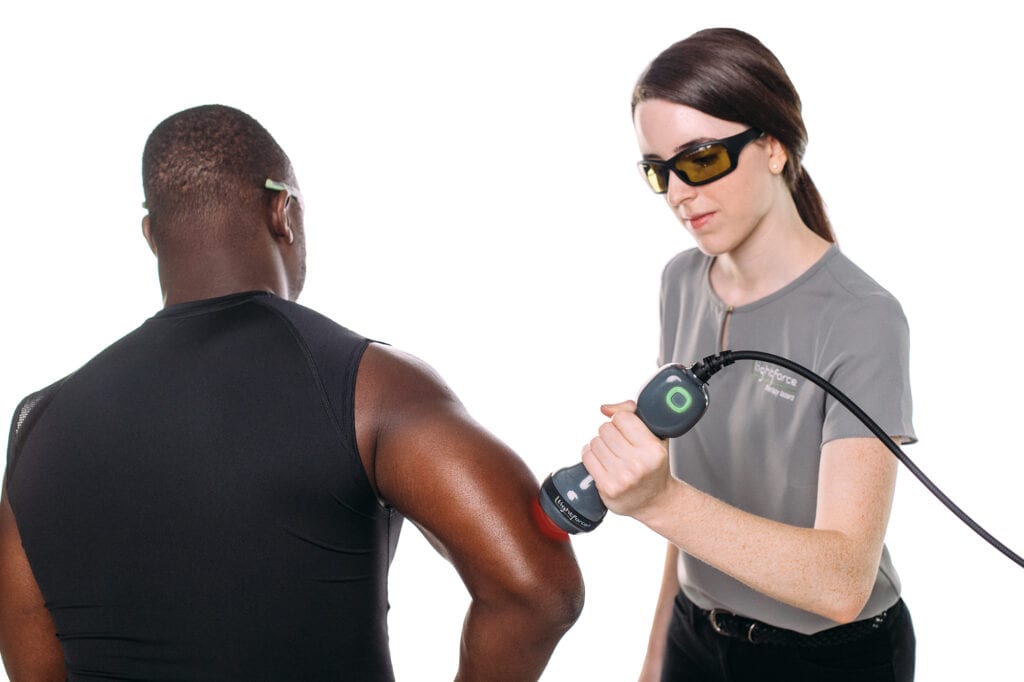 Implementing a therapy laser is easy too, especially when you partner with a manufacturer who offers marketing solutions. The key with marketing laser therapy is to get people in the door to try it – the pain relief is so powerful that it only takes a treatment or two to transform people from skeptics into cheerleaders. Engaging in a few simple actions like these will generate big buzz:
Produce a press release
Post on social media (with a treatment demonstration video)
Host an open house
To boost referrals even more, you can also offer an incentive program. Such programs can be structured in a variety of ways, but many clinicians find that "Earn A Free Treatment" programs work particularly well and have a high benefit-cost ratio. To qualify for a free laser treatment, all patients need to do is refer someone who then signs up for a laser therapy treatment package. It's a simple concept, yet incredibly powerful because everyone walks away a winner – you increase your patient base while fostering patient loyalty and your patients leave feeling appreciated, grateful, and pain-free.
Beyond producing patient referrals, adding therapeutic laser generates professional referrals too. It is common for clinicians who are familiar with the pain reduction and anti-inflammatory properties of laser therapy to refer our patients with stubborn conditions such as TMJ, epicondylitis, and plantar fasciitis. You just need to let them know you have the technology available by making a few phone calls or giving a brief presentation on the basic science and benefits.
Boosting your referrals isn't always easy, but one thing guaranteed to make it easier is adding a technology that dramatically improves therapeutic outcomes. The positive, dependable results associated with deep tissue laser therapy will undoubtedly set your practice apart and get people talking. So, when considering ways to grow your practice, take a look to laser therapy. You will quickly see that investing in a therapy laser is more than an investment in a piece of equipment – it's an investment in the future health of your patients and practice.